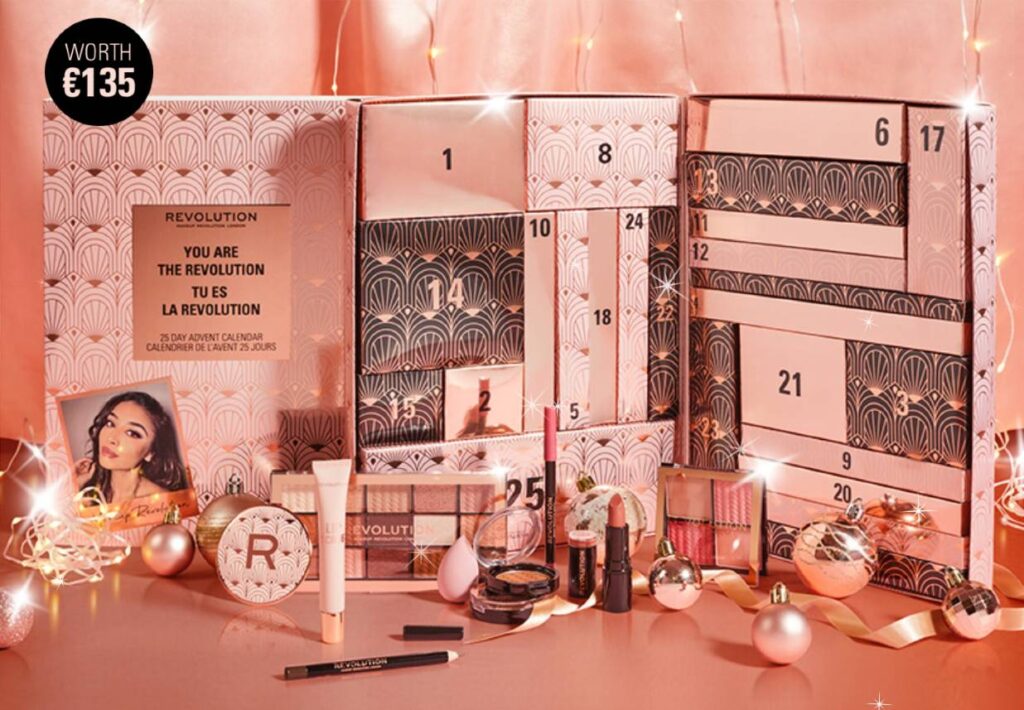 El Calendario de Adviento You Are The Revolution 2022 abrió el 10 de agosto su lista de espera. El pack para este Adviento, cuya caja combina el rosa metálico con el negro, se presenta en un formato díptico, con ambas caras conteniendo las cajitas individuales en las que se esconden las 25 sorpresas.
El calificado por Revolution como su conjunto de cuenta atrás navideña «viral» está valorado en total en 135 euros, pero salió a la venta el 8 de septiembre por 53 euros en la tienda oficial de la marca, donde se indica que no lo sirven en España.
Por suerte, lo podemos comprar en Notino por 61,60 euros:
Qué productos lleva
Ya está la lista completa de productos, todos ellos veganos y entre los que no faltan brillos de labios, paletas de ojos, delineadores, herramientas de belleza… Aquí la tienes:
Revolution Lip Liner Baby Pink 1,15 gr
Revolution Beauty Sponge Light Pink Small
Revolution Brow Crayon 1,65 gr
Revolution Brow Defining Pencil 1,15 gr
Revolution Khol Eyeliner Black 1,15 gr
Revolution Detailed Eyeshadow Brush
Revolution Fluffy Eye Brush
Revolution Cream Eyeshadow Life 2,5 ml
Revolution Cream Eyeshadow Hope 2,5 ml
Revolution Lip Liner Chauffeur Nude 1,15 gr
Revolution Matte Lipstick Baby Pink 3,2 gr
Revolution Matte Lipstick Chauffeur Nude 3,2 gr
Revolution Clear Shimmer Lip Gloss 8 ml
Revolution Lip Oil Shine 2,5 ml
Revolution Liquid Lip Baby Pink 2,5 ml
Revolution Liquid Lip Chauffeur 3,5 gr
Revolution Lip Scrub 8 ml
Revolution Pressed Highlighter Condition 2 gr
Revolution Dewy Primer 12 ml
Revolution Pressed Contour Powder Shape 2 gr
Revolution Clear Brow Gel 3,5 ml
Revolution Eye Primer 2,5 ml
Revolution Mirror Unique Design
Revolution Blush Quad Cheeky 4 x 1 gr
Revolution Reloaded Palette Prestige 15 x 1,1 gr
¿Te gusta el Calendario de Adviento You Are The Revolution 2022? Aquí puedes consultar cómo era el del año pasado.
Revolution lanza bastantes sets prenavideños cada año. Te recopilamos los últimos, algunos de los cuales todavía están a la venta:
En esta web verás también otros calendarios de Adviento de belleza de las mejores marcas.
Suscríbete a nuestra newsletter para estar al tanto de todas las novedades: