El calendario de Adviento Clinique 2019 es de edición limitada y de lo más escurridizo. Muchas de vosotras sabéis bien por lo que lo decimos. Sí, cuesta hacerse con él. ¿Por qué no se vende en su web oficial? Ni en la estadounidense, ni en la española, sólo en la francesa y no envían a España. Misterios de esta compañía subsidiaria de Estée Lauder Companies.
En cualquier caso, el de este año llega rebosante de los exclusivos productos esenciales para el cuidado de la piel, fragancias y maquillaje de la marca.
Entre los 24 productos de formato viaje que Clinique incluye en su calendario de Adviento está el Smart Night ™ Custom-Repair, la crema para ojos Pep-Start ™ y el color de labios Clinique Pop ™ Lip Color + Primer. Actualización: ¡Agotado!
Actualización: Ya puedes ver el calendario Clinique 2023.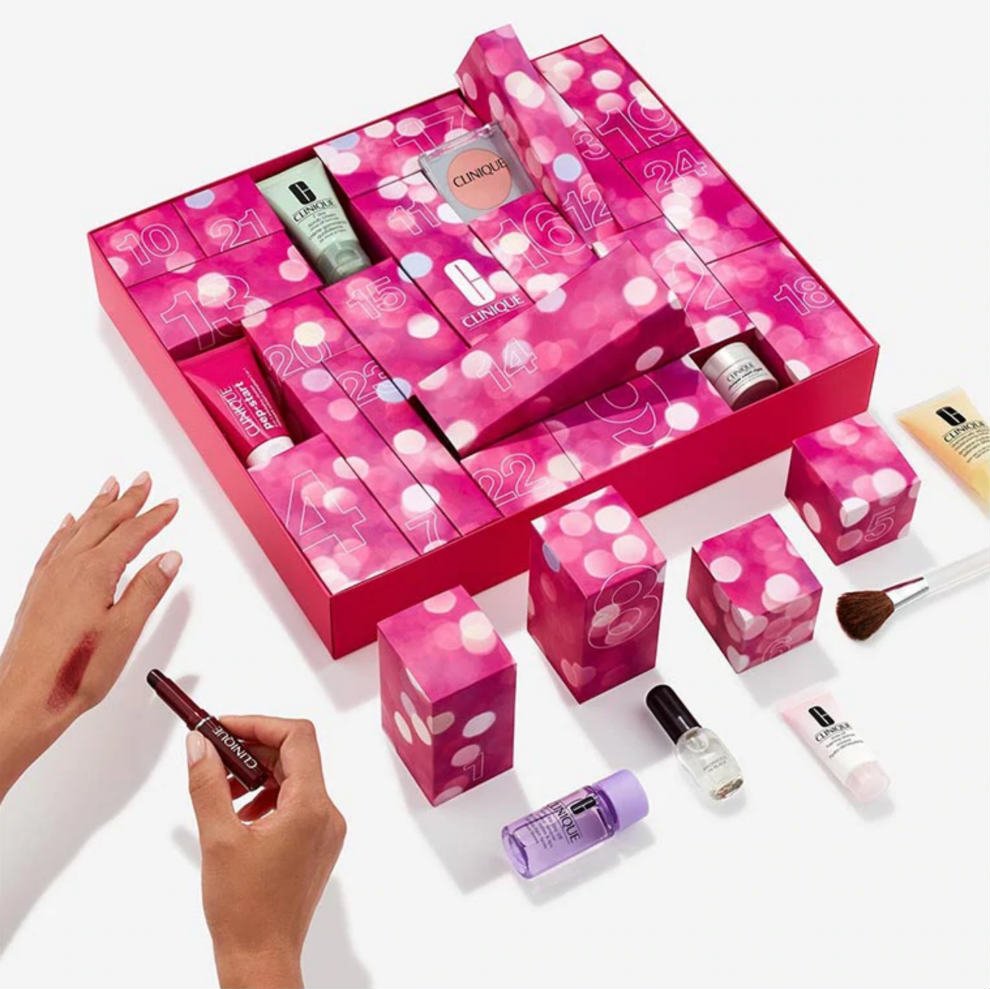 Contenido del «24 Días de Clinique Calendario de Adviento»
El calendario navideño de Clinique 2019 está compuesto por 16 productos de cuidado facial o corporal, 7 de maquillaje y un perfume:
Clarifying Lotion Twice A Day Exfoliator, 60 ml
Liquid Facial Soap Mild, 30 ml
Dramatically Different™ Moisturizing Lotion+, 30 ml
Moisture Surge™ 72-Hour Auto-Replenishing Hydrator, 30 ml
7 Day Scrub Cream Rinse-Off Formula, 30 ml
Deep Comfort™ Hand and Cuticle Cream, 30 ml
Take The Day Off™ Makeup Remover For Lids, Lashes & Lips, 30 ml
Clinique Pep-Start™ 2-in-1 Exfoliating Cleanser, 30 ml
Rinse-Off Foaming Cleanser, 15 ml
Moisture Surge™ Hydrating Supercharged Concentrate, 15 ml
Clinique Smart Night™ Custom-Repair Moisturizer, 7 ml
Moisture Surge™ Overnight Mask, 7 ml
Clinique Smart™ Custom-Repair Serum, 7 ml
Clinique Pep-Start™ Eye Cream, 7 ml
All About Eyes™, 5 ml
Aromatics in Black™, Eau da Parfum Spray 4 ml
Blushing Blush™ Powder Blush in Precious Posy, 3.1 g
Lash Power™ Mascara Long-Wearing Formula in Black Onyx, 2.5 ml
Clinique Pop™ Lip Colour + Primer in Love Pop, 2.3 g
Clinique Pop Splash™ Lip Gloss + Hydration in Air Kiss, 1.5 ml
Almost Lipstick in Black Honey, 1.2 g
Clinique Fresh Pressed™ Renewing Powder Cleanser with Pure Vitamin C, 3 paquetes, 0.5g cada uno
Quickliner™ For Eyes Intense in Intense Ebony, 0.14 g
Blush Brush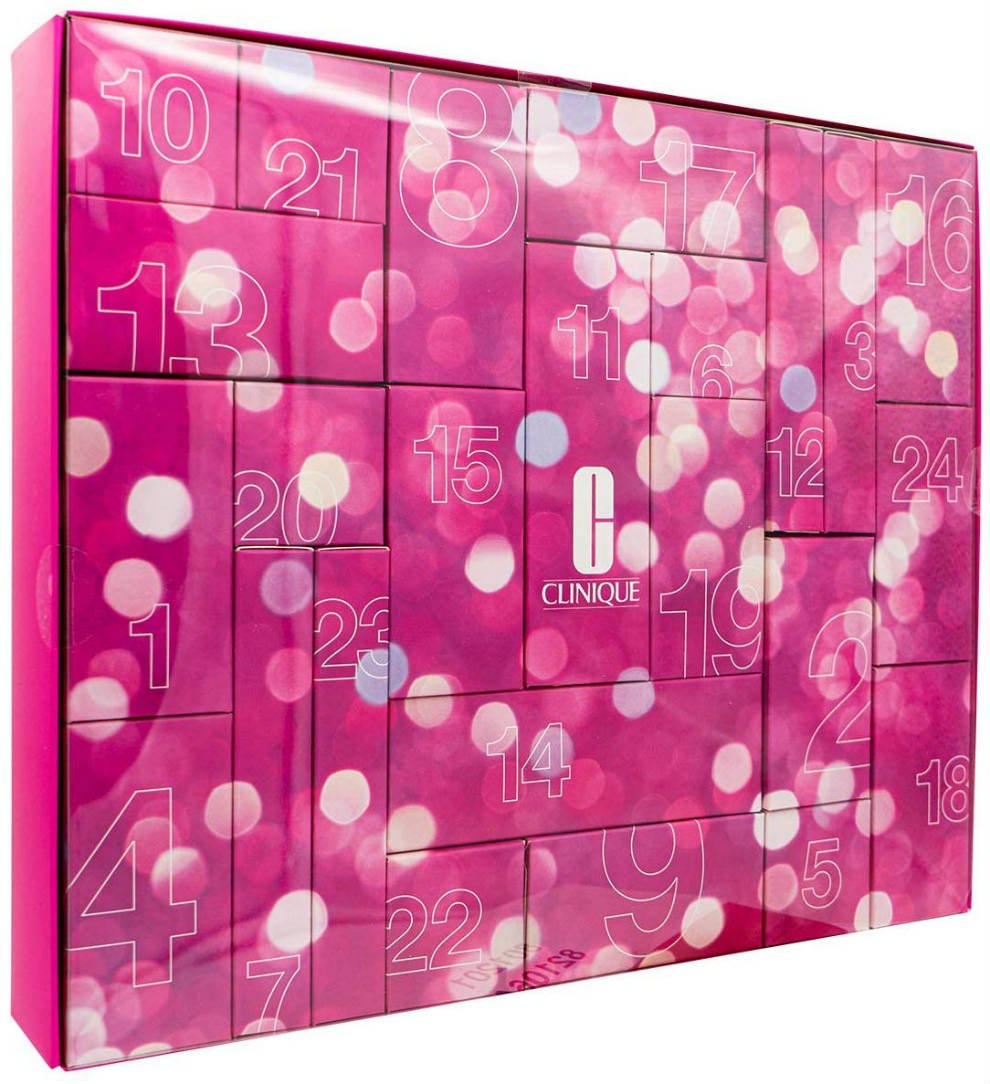 ¿No te acaba de convencer el calendario de Adviento Clinique 2019? ¿Buscas un calendario de Adviento de belleza 2020?